Private parking
We have a parking for cars and motorbikes reserved for guests of the Residence.
Large Garden
The Residence is surrounded by a large garden, with fruit trees, relaxation area and multipurpose area.
Free Wifi
The structure is covered by a free Wi Fi, with private access password.
Baby equipment
For families with small children are available cot, stroller and playpen.
Tourist info
During your stay you can visit Gallipoli, Otranto, Lecce and surroundings.
Laundry
In case of need take full advantage of an in-house laundry service to the structure.
Residence
Villa Vacanze Paradiso
Residence near Gallipoli Villa Vacanze Paradiso is only a few kilometers from the stunning beach of "The Pearl of the Ionian" in Salento, in Apulia, between the towns of Tuglie and Neviano, on the Montegrappa hill, characterized by a landscape of olive trees and vineyards.
The Residence offers solutions in B&B and holiday homes of high quality and comfort, with many services to fulfill the desire.
Located in a green and unspoilt area not far from Gallipoli, the Residence has a swimming pool and a large walled garden.
Villa Vacanze Paradiso is the B&B and Residence ideal for a special holiday breaks.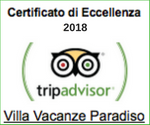 What they say about us!
Reviews
The views guests in Residence Villa Vacanze Paradiso.
We spent the last week in August in this hotel. fantastic place, everything taken care of in every detail, complete with every comfort, ideal to spend a nice relaxing holiday with the family. wonderful pool, beautiful location close to the beautiful beaches of Salento. The owners are extremely kind and professional. Holiday not to be missed!!!
Raffaele -
Not to be missed!
Beautiful location with a wonderful garden and a really scenic pool! Quiet, clean and perfectly organized! Had a great time .. not only because the place is really lovely, but also because of the staff and managers are really, really friendly, helpful and professional! In short, I recommend it 100%!
Valentina -
Perfect holiday
Villa Vacanze Paradiso is the ideal place to spend a holiday: the apartments are spacious, comfortable, fully equipped; The property offers tranquility and every comfort; Moreover Messrs Paul and Louise are really hospitable and helpful. We were really good!
Fabiana -
Fabulous holiday
Wonderful property with the greatest care, the garden... the pool... dream, the comfortable apartment. Mr. and Mrs. Luisa and Paul are lovely people, you see that they work with passion and desire to satisfy people, we had a great, convenient location for any point of the Salento. For sure we will return to Puglia and for sure will come back here...
Marina -
The perfect holiday in the perfect place
SUBSCRIBE TO THE NEWSLETTER
Subscribe now to the newsletter and receive all the information in advance to spend a dream holiday in the Salento peninsula.
We protect your privacy, we will not send spam but only updates the residence.